Cora is growing up. She takes on chess opponents regularly, within the house and guests. I suppose its her way of staying out of harms way.
Harm being her grandfather
.
Eddie: She still has
me to comfort her
when he does manage to hurt her feelings.
Yes she is one lucky little girl.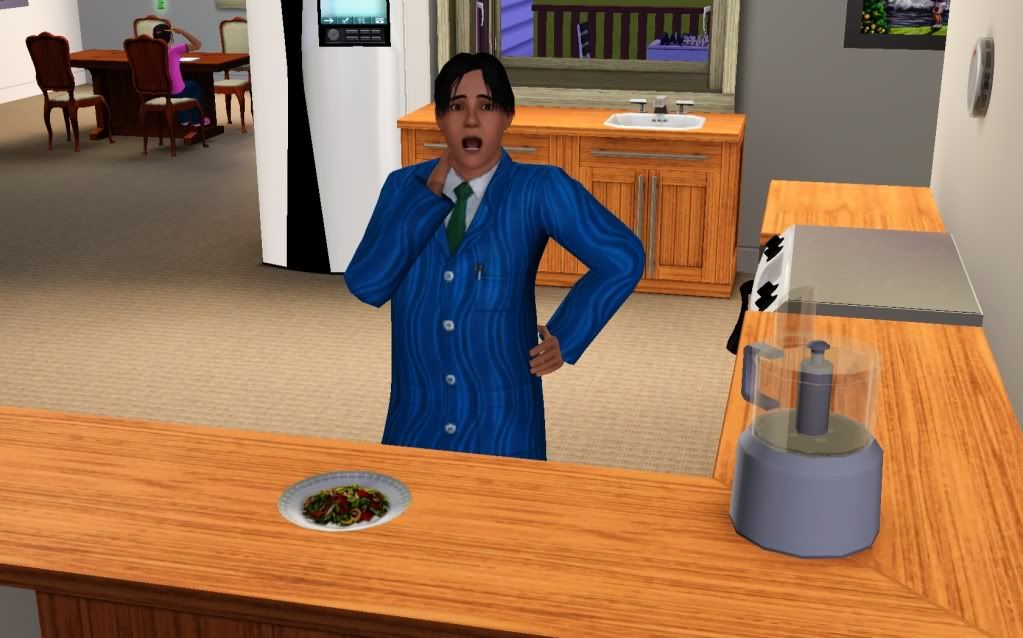 This time I wanted to see what it was like when Eddie went to burn something nearby. While out on the town, he dutifully picked up their half of the business take when I clicked to have him burn something nearby… only he didn't give the option, which as you can see I forgot to get a screenshot of. oops?
Eddie: That didn't exactly stop you from trying it at home.
Nope. I remembered the next day after he came home from work. I saved then sent him off to
burn something
. He walked a
few feet away
.
Eddie: Only there were no flames. I'm not sure what happened.
Me either! It did
set off the fire alarm
in the kitchen. Then it
promptly went out
.
Eddie: A firefighter
still came to the house
.
And fined Franklin for
a false alarm
. Both Eddie and Franklin immediately wanted to fireproof things. *giggles*
Eddie: That's when you had the crash?
Yup, the house froze and crashed.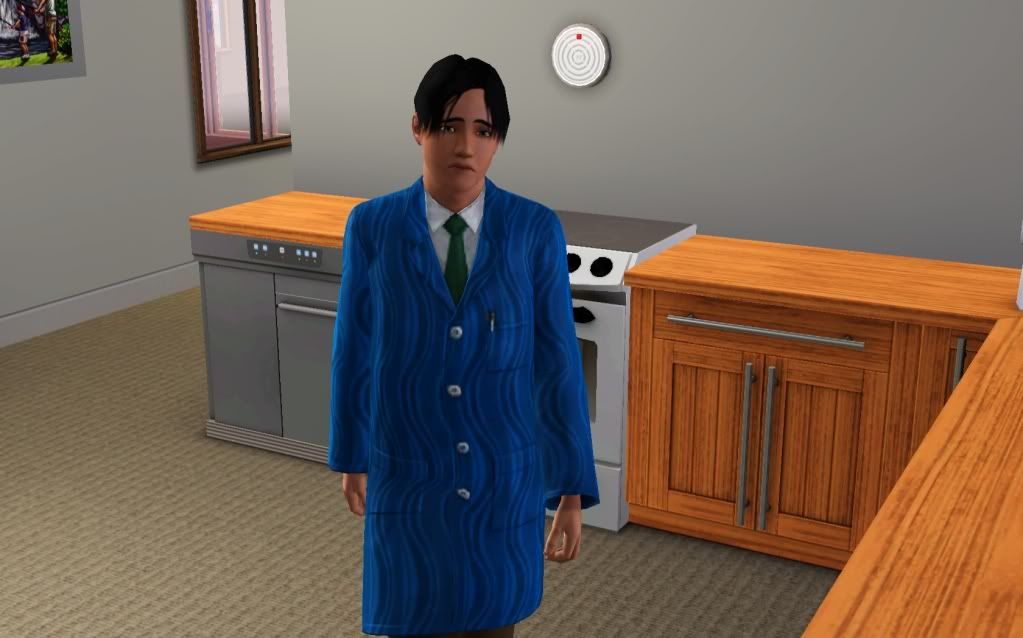 So I had Eddie try again… he didn't seem too eager to help me out this time around but he did head to the bathroom where
it claimed there was a fire
. One that did not burn again.
Eddie: At least the fire alarm
didn't go off this time
.
True, so there was no fine.
Eddie: Who is Dad talking to?
That would be your half-sister, Marjorie. She came home from school with Aiden.
And she put my
son on the floor
… why?
To transition. He sparkled, spun and *blinks* he
loves pink
.
Eddie: Dad didn't waste
any time
.
No, he didn't even wait until I could send Micah to the dresser before
he stole his candy
. He did eventually
get to the dresser
… but not before…
Eddie: Cora's such a good girl.
Yes and rather proud of her block tower. That isn't what I was talking about. I meant it was her turn to transition. She
celebrated
, she… *blinks*
Eddie: Hmm? Oh that... yes I had a mishap with the dishwasher. It's nothing a good hot shower won't fix.
Uh huh, go shower… back to Cora, she
sparkled
and spun…
great kisser
. That should make some men happy. She is
a beauty
. I like her with short hair so I
let her keep it short
.
Eddie: What
the frell is she wearing
?!
You don't approve? I think she's adorable!
Eddie: *growls*
Cora is the first sim I have ever had that autonomously went to teach a toddler to walk.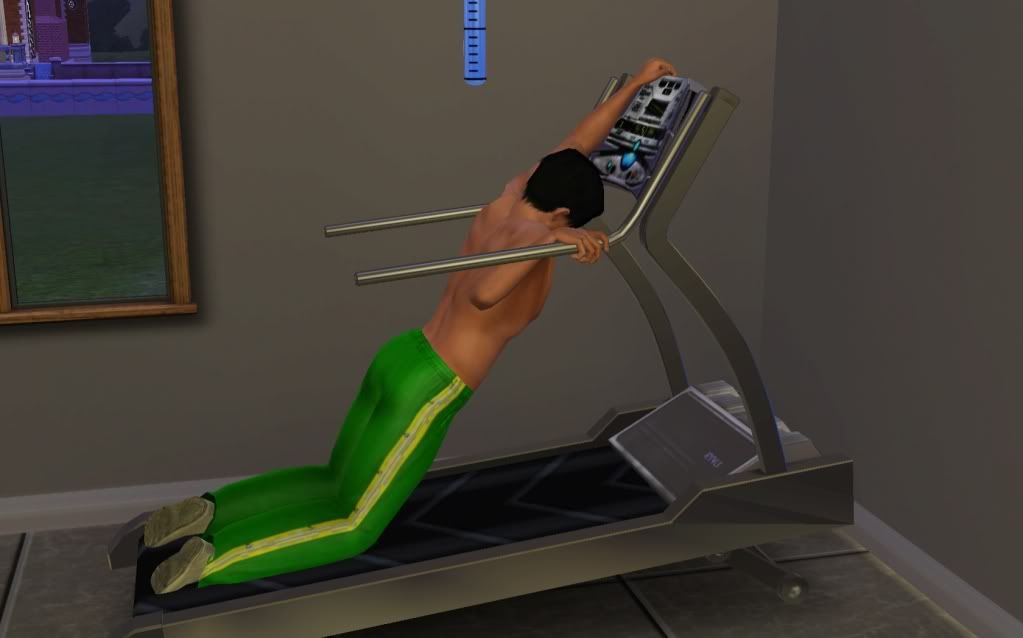 Eddie: Dangit Roo, what am I doing on this stupid machine again?
You've gained weight. At least I'm
not making you suffer alone
.
Eddie: Gained weight? I have not!
Oh?
I have proof
.
Eddie: Oh ouch. Ya okay, maybe I have… but I'm getting older so I don't see any need to keep that body of when I was younger.
Pfft your transition day is coming. You're
having a swim party
. You want to look good in your suit dontcha?
Eddie: *grumbles*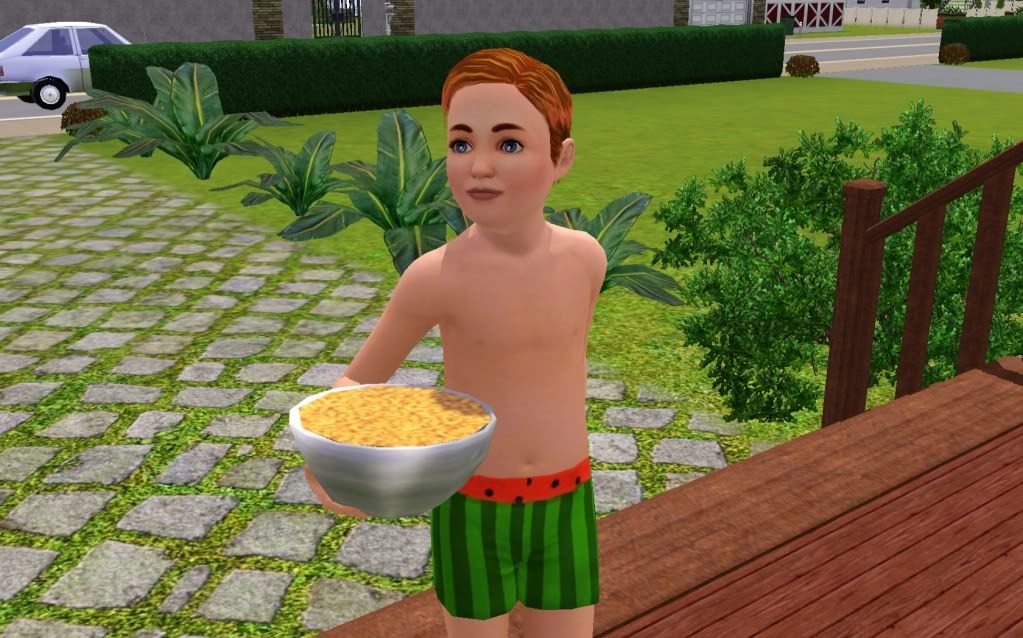 So the day of the party, Russ shows up as a young boy.
Maricela
is in high school as is
Zebulon
and
Fred
.
Carmen showed up
, still single.
Eddie: Poor Micah, everyone tried to ply him
with food and bottles
.
He hated it and eventually got away to hide in his room.
Eddie: Hey Roo, who is
that with Dad
?
*peeks* That's Lisa.
Eddie: She's… she's an elder… and Dad is…
Still a YA yes, I know. It doesn't appear to bother him a bit that's she's older, so leave them be. Besides it's time you transition. *prods him to blow out candles*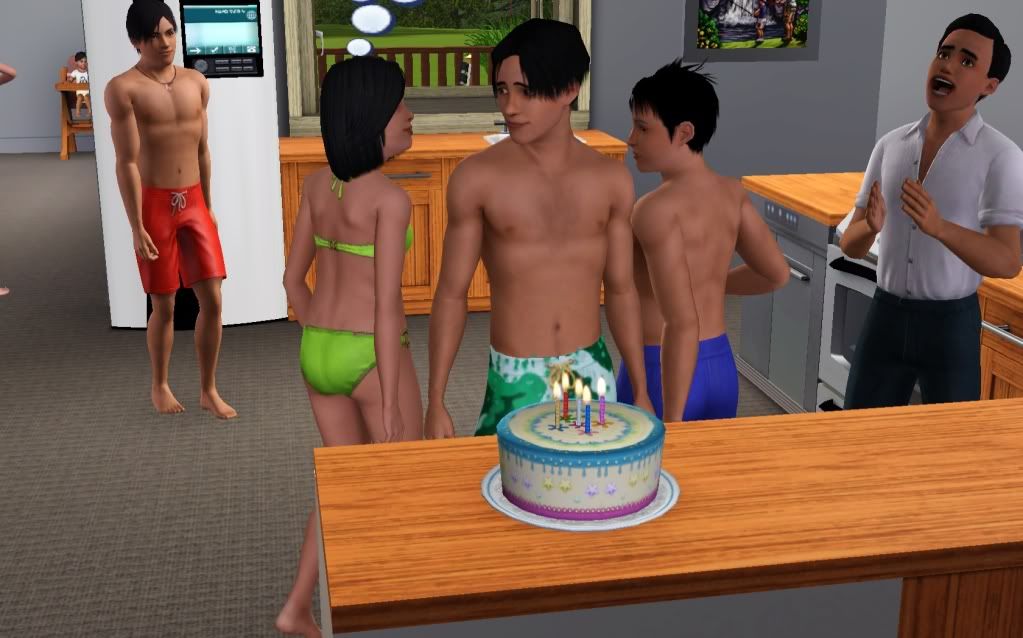 Eddie: Hmm… I wish…
I wish
… *spots Starsha* Oh ya… I know what I want.
*headdesk*