I have never sent anyone to visit with their new neighbors, so I took the only one who was doing absolutely nothing and sent Evan over to the house next door. The house is
full of old men
and one teenaged young man.
Eddie: Evan seems to be a bit
smitten with that boy
.
Yes, they hit it off immediately so I took advantage of the situation and nudged him to take the
next logical step
which… *gets yanked home* I hate when that happens! Now what?
Eddie: Its Cora's transition day.
Ah so it is, she spun,
sparkled
and we rolled… o.O really? *sighs*
Eddie: Ha, that's my girl.
Family oriented
. I'm telling you, Roo. She is the next heiress.
Yes she is.
Eddie: Just give her a… did you just agree with me?
Yup, Cora is the
Generation 6 heiress
.
Eddie: *raises an eyebrow* You gave in… just like that?
Uh huh…
Eddie: Hmmm…
*Gets pulled next door* Oookay then, that gets kinda old. I guess this means its Evan's turn. *taps foot, waits, waits more* He
celebrates
, he
spins
, he rolls and… *blinks*
Eddie: Wait, what?
Ambitious
? That seems to be in direct conflict with his couch potato.
Ya, I think its weird too. Oh well,
he's happy
, I guess that's all that *gets tugged yet again* Oh come on!
Oh good, I've been waiting for this. *taps foot even more impatiently then the last transition* What?! *headdesk* I think I jinxed it by being impatient with her last transition and giving her a cake. She's
an elder ghost
. Well this isn't what I was hoping for. I was hoping she would go back to her uncontrollable ghostie self!
Eddie: So now what?
I did what any 'sane' controller would do. I debated and chose the easy way out.
Eddie: It was a busy night.
Meaning?
Eddie: Starsha gave birth to
my son, Russ
.
Oh so she did. Congrats!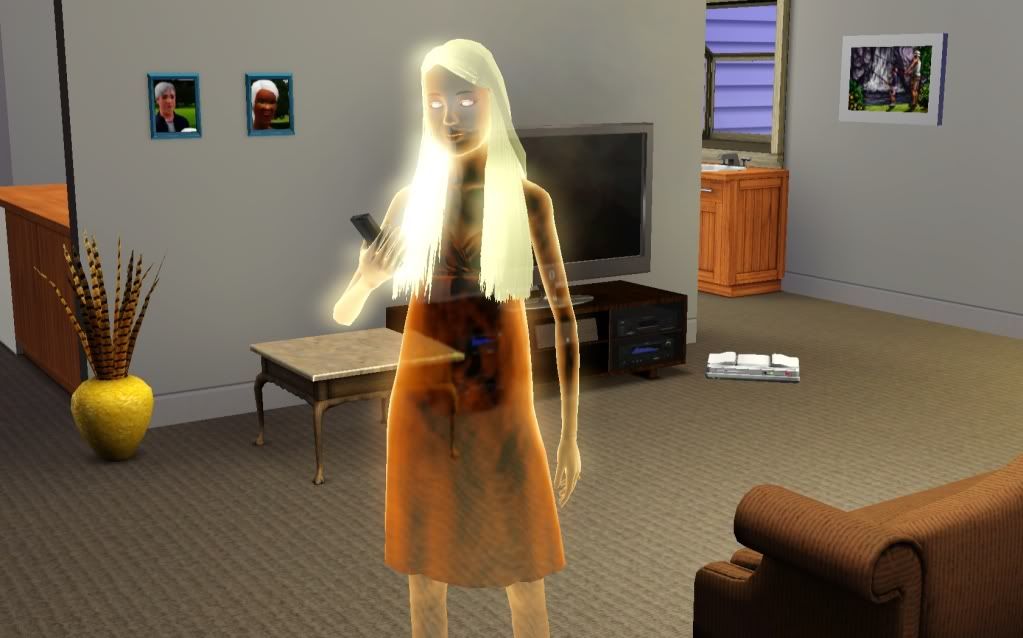 Anyhow, I decided that since I don't play by the 'official rules', that I am not bound to any rules. I think Precious has served her purpose and seeing how she can't be killed, the next best thing is to kick her to the curb… or more accurately move her out.
Eddie: *smirks* You mean
kick her out
.
Uh huh, exactly! *waves
bye to Precious
* And since I'm on a roll, lets see if we can get rid of Evan tonight too. *prompts Evan to
call Cyriaque
*
Eddie: Didn't quite work.
No, the brat came to the house but
then went home
. *sighs* You do realize there is only six in the house…
Eddie: *grins* Yup… I'm
all over it
.
*chuckles* Go
get her
, Tiger.
*sighs* Franklin hasn't changed. Now that Cora is older, she is fair game for
his 'antics'
. Ah and before I forget to mention, Eddie
was successful
.
Eddie: Naturally.
*smirks*
Ah and please note, Evan has the bar again. It comes and goes on all of my simmies now. I keep resetting them and yet it comes back eventually… its always cooking that triggers it.
Eddie: We could start ordering out…
Nah, I'd rather reset everyone. It really gets old though. I wish it would just stop.
Fast forward, Gladys waddles off to the hospital in order to give birth to the spare. I thought it was kind of funny that everyone went about
their business as usual
. Students jumped on the bus, others got in their carpools and off to work everyone went. Including Eddie…
Eddie: Hey! I was already on my way to work as she went in to labor, that's not fair.
*giggles* Yes well, I thought it was even more interesting to see who was standing in front of the hospital. *waves hi to
Carmen and Cecil
* Which got me to thinking, so I checked the family tree. Neither Carmen nor Cecil are married nor have children… but I did note that
Zebulon
is now in high school and Akara had another baby! She has a
daughter, Katie
.
Eddie: And I have a
new son, Micah
.
Yes you do. As Gladys came out sporting a
new child on her arm
, Eddie came out and promptly
went to work
leaving Gladys to
taxi it home alone
. I thought it was weird seeing how Sherman's police cruiser was still in her backpack. *shrugs*
Eddie: Do you think she knows her days are numbered?
*tilts head* Sure
looks like it
…
This time when Evan called Cyriaque over, he showed up and much to my delight, he too has transitioned to adult! So we invite him in and Evan works the magic on him. You know the drill,
go steady
, then
propose
, naturally their
head is spinning
so they
foolishly accept
and quick as a wink
they're married
before they can object. We
move him in
and once again
have a full house
.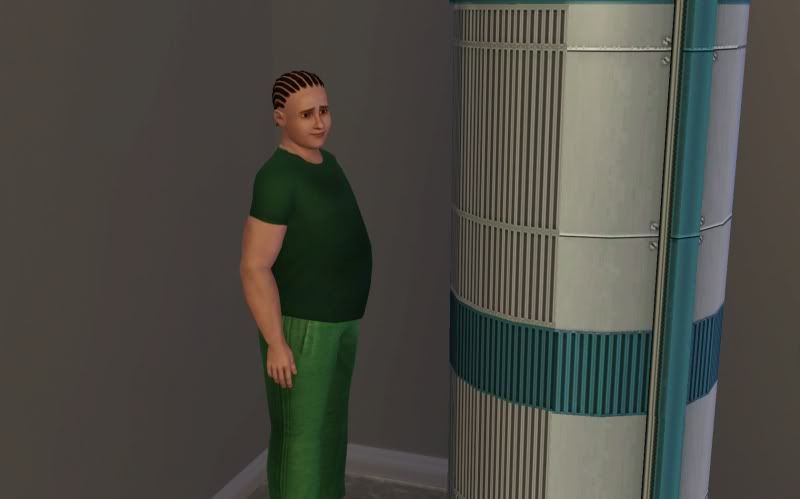 Cyriaque is an interesting looking sim. I hate his hair and I'm not too thrilled with the bulk. I've only tried this once so I thought to give it another go.
Nice results
but the hair must go. So we shove Cyriaque
in front of a mirror
… not bad… now for
new clothes
and… oh right,
he's clumsy
. *smirks* He turns out to be
a decent looking simmie
. Who knew? So we… uh… *tilts head* Oh I could get used to
having him around
…
Eddie: *laughs* Ya, I think
Evan can, too
.
Evan and Cyriaque aren't the only happy sims in the house.
Eddie: No, they aren't. I adore my children. They are my world. Can I go see Starsha? I haven't seen Russ yet.
Soon. First I think we need to empty the house a bit.
Eddie: Are you going to kill off
Gladys already
?
Not yet.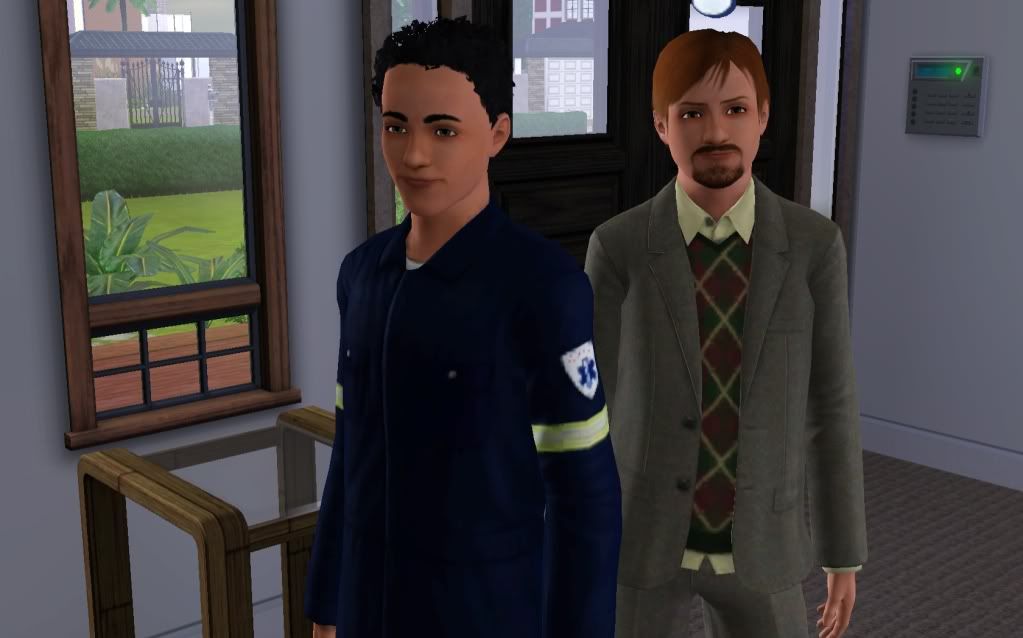 Instead I prompted Evan to call and move him and his new hubs out. *blinks* Uh…
Eddie: *glances* Don't worry. It's
a neurotic thing
. He'll be fine.
You would know… so off they go-
Eddie: Roo! You didn't really
send Gladys off
with them did you?
*giggles* No but man I was tempted. *waves
bye to the guys
*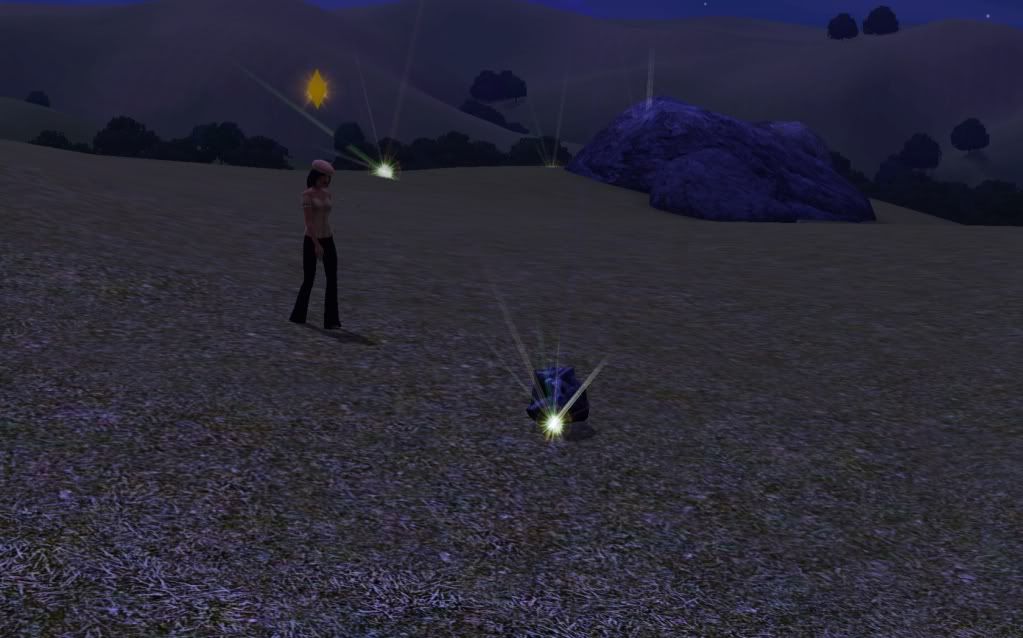 Instead I sent Gladys all over Riverview looking for gems and stones and ore and space rocks, etc.
Eddie: She doesn't appear to be too
pleased with this turn of events
.
No not at all, she is
famished and rather tired
. I also had her
explore areas I had forgotten
about and even
catch bugs
when I saw them. She also grabbed some seeds if I noticed them.
Eddie: Hope came out for
her first haunt
.
Yes she did, she even mourned her father.
Eddie: Roo, can Gladys come home yet?
What? Oh she
passed out
after turning in the bugs… yes she can come home. By the way, I found it was difficult to kill a slob by starvation. The woman would belch and be good to go for another 7 hours! *shakes head*
Eddie: Disgusting.
I know right? So I sent her to bed.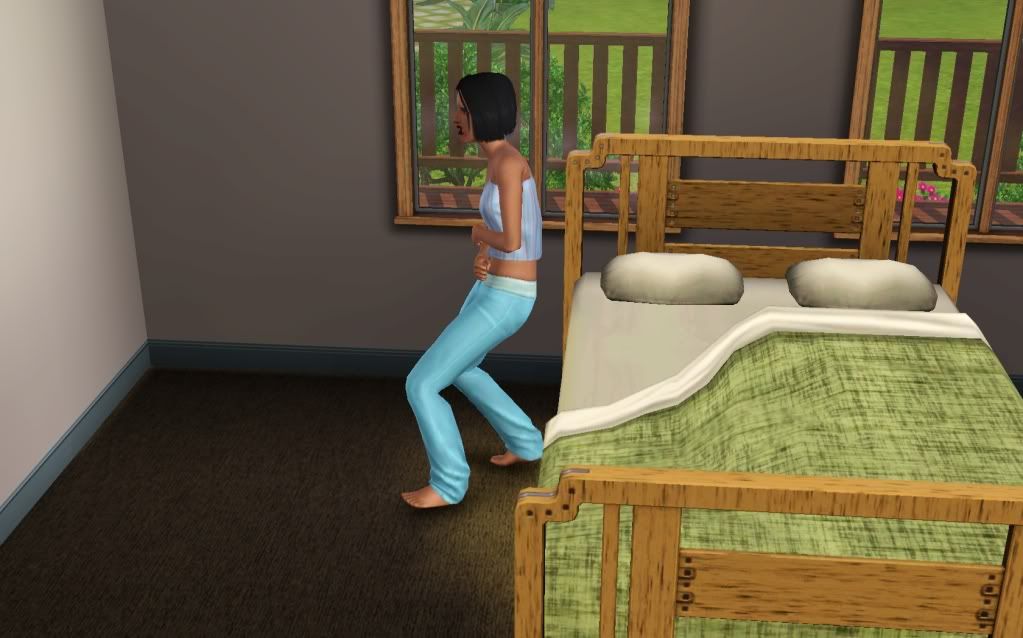 She woke up in time to fall over
dead of starvation
. Grim
came for her
and she had
no objections
. I think she really was expecting it after all.
Eddie: Well this is the Babii house.
Yes that is true. Note the
graves reacting to Grimmy
again.
Eddie: Grim made
himself at home
.
Yup, he played
some game
and was rather pleased. That is until
Franklin disrupted things
. *blinks*
Run Franklin
!
Eddie: What the frell?
Its okay… they're
playing tag
.
Eddie: I'm not sure how I feel about that…
Ya me either… simmies are weird.