Read for the oddities I mentioned earlier?
Franklin: *looks around, shrugs* Uh, sure…
*giggles* I didn't mean you… but okay lets do this.
Transmogrify… I have no idea why Eddie has this 'power' but he does. I found this purely by accident. I
found a seed
, clicked on it expecting him to be able to simply pick it up to take home and there it was… the
option to transmogrify
. Naturally I chose this option. Eddie picked up the seed,
held it
and it changed in
to flame fruit
! It doesn't work with all of them, only those that are actually flame fruit. (I guess) My theory is that its because of his mom… Shawanda was a firefighter. Didn't EA Guys put in an Easter Egg for firefighters? Maybe they put more than one… it's possible and the only thing I can think of.
Franklin: *raises eyebrow* My son can do 'that'? Interesting…
Mhm… once I had him do it and it
evaporated in a puff of smoke
.
Finally! Oh read faster Christian…
Franklin: What are you talking about? Pop has been reading a lot lately… studying something for some reason.
Yes his cooking skill was too low, so I had him study. Seeing how he is the genius of the family, I figured it would be faster for him or a bookworm, seeing how we have none, Christian got the job.
Franklin: *yawn* Uh huh…
Franklin its time
! *bounces*
Wake up
! Your father is making you a special breakfast. *pokes Franklin* Oh now doesn't that look…
appetizing
… *wrinkles nose*
Franklin: *stretches* It's not my birthday…
what gives
?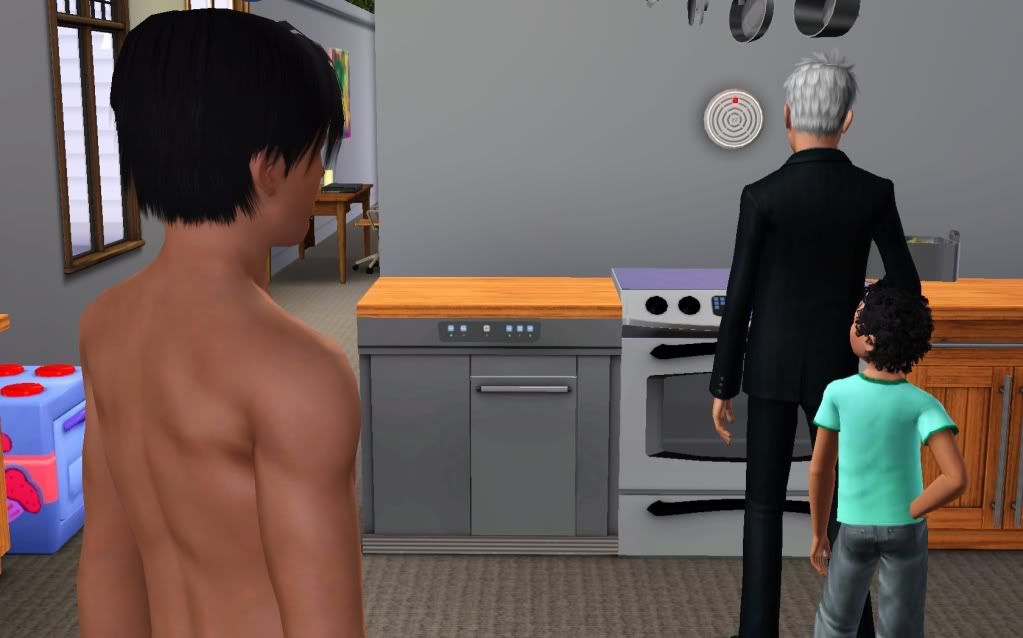 It will be done in a minute… or two… I don't know just give it some time.
Franklin: I don't have a lot of time. I have to get ready for work. Maybe I'll just have this leftover- *blinks* I'll
just brush my teeth
until its finished… *growls* you did it again.
Yes, I didn't want you to eat any leftovers. I want you to eat what your father has been studying to
make just for you
.
Franklin: Mmm… well it does smell good. Tasty… in an odd way… good, but- *blinks*
I feel funny
.
Yay! He
sparkled real pretty
and has restarted his YA years. So the ambrosia works like a charm. Not to forget the awesome moodlet that comes from eating it. +75 for 7 days! Golly.
Franklin: I'm
late for work
. We'll talk about this when I get home!
*waves and grins*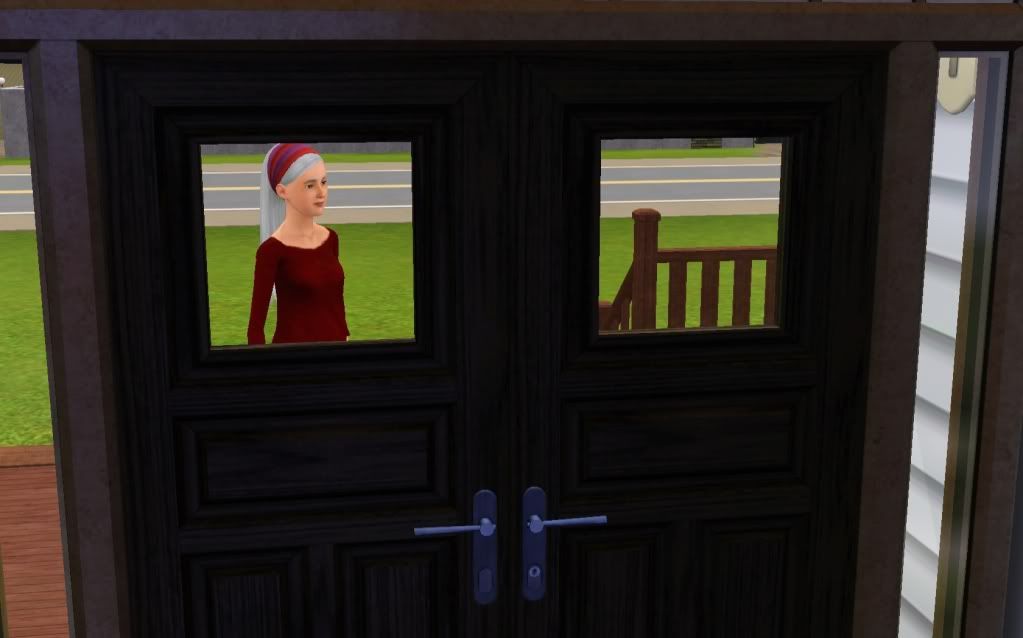 Another thing that was odd… Lashanda Boyles came by for a visit. She wasn't invited. She isnt the only one. This is Franklin's co-worker's daughter… I forgot her first name,
she's a Do
. I thought maybe she was a friend of Eddie's that came home from school with him… only they
hadn't met either
. Not looking a gift horse in the mouth, I had our Gen4 heir greet her and test the waters. She didn't blink when
they spoke of families
. She didn't
get bored
when he spoke of conspiracies… *sighs* That's
about the time
Lashanda passed on. She was in there with Aiden
when her time came
. Naturally everything stopped in
order to 'mourn' a virtual stranger
. Too many people for such a small room
so I distracted Hope
. About then I heard Grim's arrival. Only I didn't see him… so I
dropped the walls
. He popped up in the bathroom. *snickers* Then did the
hip pause a few times
as both he and Eddie tried to enter the room. While I was inconvenienced by a non-family member's death, I was still amused by Grim's antics… not to mention Lashanda saying she has to go home to take care of a few things…
you should call
! *blinks* really?
Grim was then amused
by their stereo
for some odd reason. Eddie
introduced himself
and instantly took a disliking to him. Eddie's 'friendly' trait
apparently clashes with Grim's
'mean spirited'. I'm surprised he gets along so well with his father then.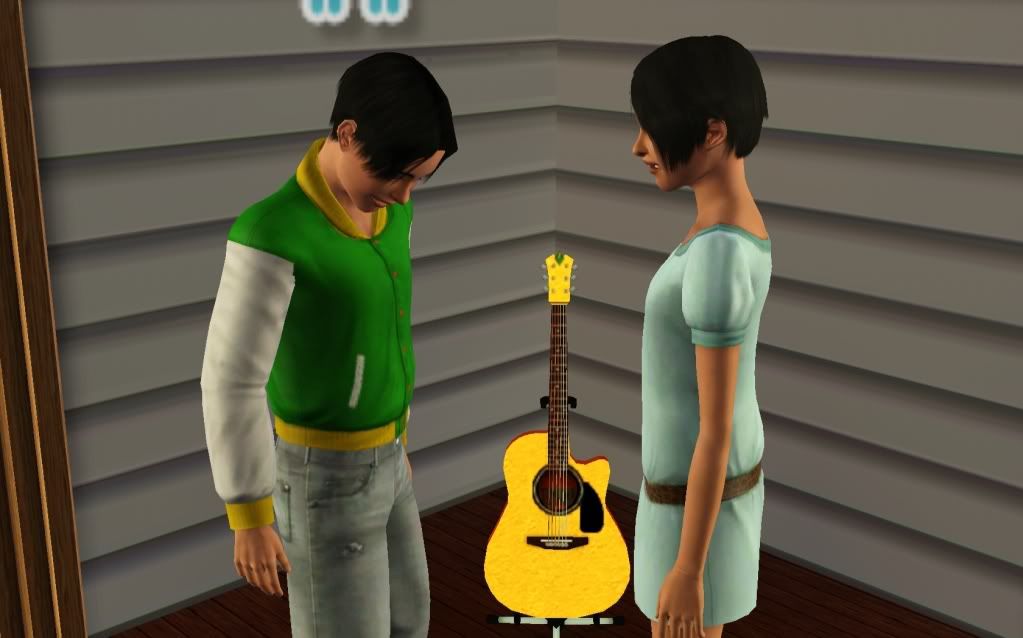 Seeing how the 'Do' girl was still here, Eddie poured on the charm. They talked, they
flirted
, they
hugged
, they
kissed
, they
made out
and he asked her to be his GF.
She accepted
. Oddly enough, the boy was none too happy to
find her in his bed
…
Franklin: *chuckles* He has a lot to learn.
You're home from work?
Franklin: I have been for a while. I got home shortly after Grim left.
The last thing I have to offer you is Aiden. He did his
sparkly twirl
and transitioned
to a toddler
. A very
bald toddler
, but a toddler all the same. I like overalls on little babies, they're just too cute. I just
need him to have hair
.
Franklin: Now about this 'ambrosia'…