Hope went to visit her 'Hunter' friend who's name escapes me. So I followed her in… Akara had her baby… it's a boy…
Franklin: *laughs* You forgot to write down his name.
Uh… yes… he um… does it really matter what his name is?
Franklin: *shrugs* Not to me it doesn't.
Franklin: Who the frell is that?
Evan. He transitioned before I realized it. He lost his curls again and those eyebrows are more suited on Eddie or you than him…
Franklin: He looks like a Babii for the first time.
Hey now, not all Babii's are evil, thankyouverymuch.
Franklin: *scoffs* Its not as if it matters, knowing you the way I do, you sent him to the mirror and gave him
his stupid curls back
.
Hey! Erm… yes, yes I did.
Franklin: *laughs*
Then I went and
changed his clothes
… the boy has some
odd clothing sense
! o.O
And apparently he has no common sense either. Seriously, if you're hungry there is plenty of food in the fridge, leftovers and things to cook!
Franklin: *smirks* He's hungry because Mr. GoodyTwoShoes is a vegetarian.
No, that isn't why he is hungry. He was hungry before going to bed so he is wickedly hungry when he got up. Doesn't matter Eddie made pancakes.
Franklin: I'm sick of
these do-gooders
…
Uh huh… well it would seem Evan wasn't
too keen on hearing
how much 'good' sims suck… seeing how he too is good.
Franklin: Of course, that is why I complain to him about 'good' sims?
As I mentioned, Eddie made pancakes. Lime pancakes… o.O ew…
Franklin: Actually they were surprisingly tasty.
Uh huh… I'll take your word for it. Anyhow, this is
the closest I have gotten
to having a sit down meal with the family. I either need 2 more chairs or a bigger table or something…
Franklin: Wait you want 'me' to fix the garbage disposal? I thought you didn't let the heir die…
I'm not trying to kill you silly. Your handy skill is high enough to successfully fix it and it will help your skill advance for your next promotion. You're so close to the top, why stop now?
Franklin: Hmmm…
Trust me…
Franklin: Well you did say you wouldn't kill the heir or future heir…
Exactly. See?
All done
. You're the man… erm… sim.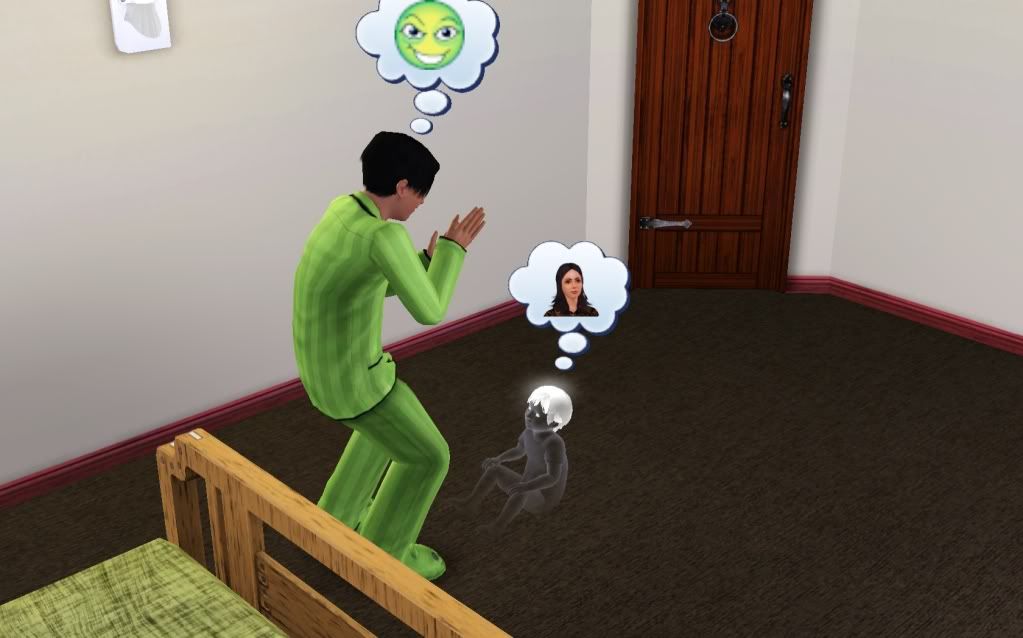 Oops there he goes again. He loves to
steal candy from Aiden
… but he can't seem to help but help comfort him afterwards. He's so conflicted.
Franklin: I dunno, Roo. Looks to me as if
he's walking away
.
True, but see his wish panel? He wants to
snuggle the brat
.
Franklin: I have an odd son.
Yes, but he is
definitely yours
.
Franklin: *chuckles* Yes he is.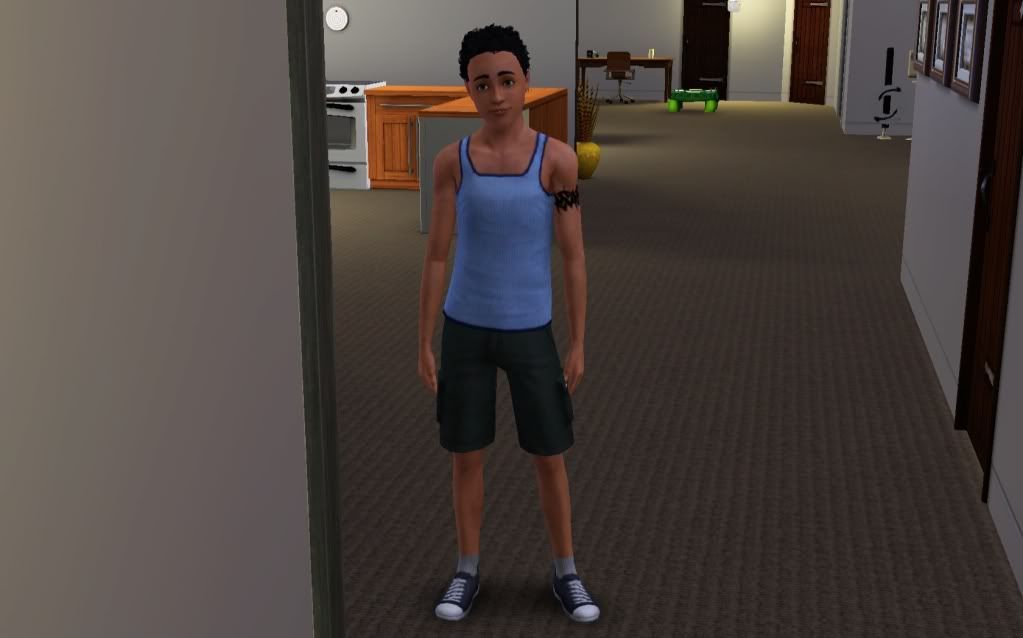 Evan has volunteered to test the body adjusting thingie for me.
Franklin: We said the next test subject would be made fatter…
Yes we did. Evan
stepped in
to the machine, it kicked on
doing its 'thing'
and out he came with a
round belly
. Shame I missed the shot of him happily rubbing his tummy. *snickers*
Hey Franklin, I uh… *blinks*
That's not you
…
Franklin: No it isn't and I'd appreciate it if you didn't stare at my son… its just a tad creepy.
I'm not staring… if I wanted to stare at someone in the shower, I have
plenty shots
of you to stare at.
Franklin: Why am I not surprised. I think you have too many of those.
Blasphemy, there is no such thing as too many nekkie pictures of you.
Franklin: *smirks*
Anyhow I was just thinking… your dad is pulling one of those, he
just wont die
things like his parents. I'm worried…
Franklin: About what?
I adore Christian and was freaked a bit about him being replaced by you… and now I cant wait for him to die… am I going to feel that way about you?
Franklin: *shrugs* Its possible. Especially if the house is full like now and the next generation is about ready to take over the house.
*sighs* That's what I was afraid of.
Franklin: Its okay, Roo. I know I'm your favorite heir.
*coughs*fornow*coughs*
Franklin: *laughs* I heard that.
So Eddie invited Gladys over and Franklin invited Lisa over and we got ready for the inevitable…
Franklin: Just because I ate the ambrosia, doesn't mean the rest of the family doesn't continue to age…
Ya, I know.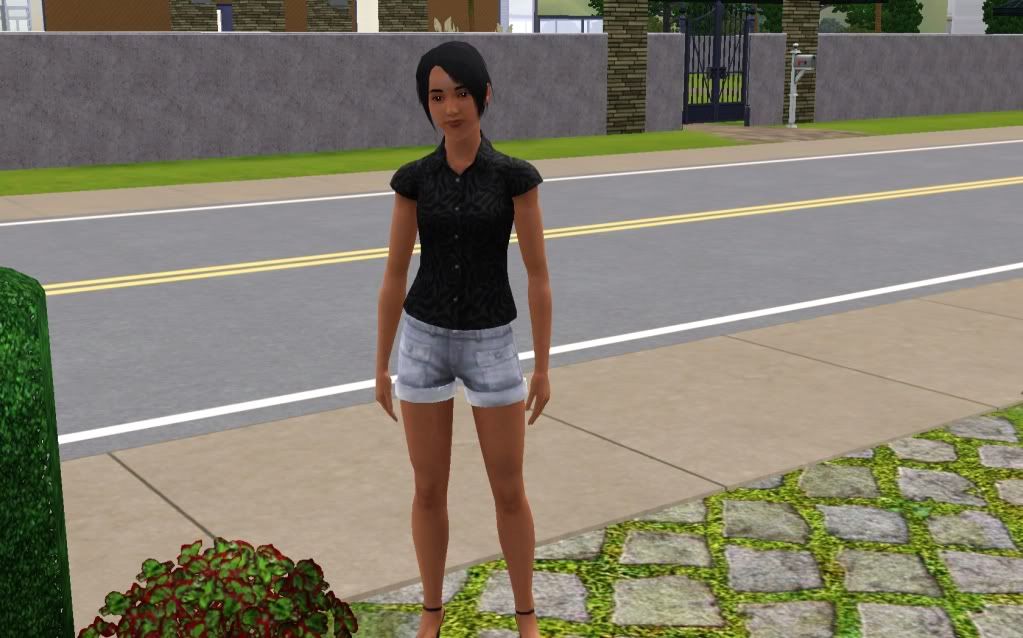 There's something different about Gladys, and I don't mean just her clothes. It turns out she has already
transitioned to young adult
. Bonus for me, means I don't need a second cake. Ready Franklin?
Franklin:
I am now
.
*chuckles* You're such a brat.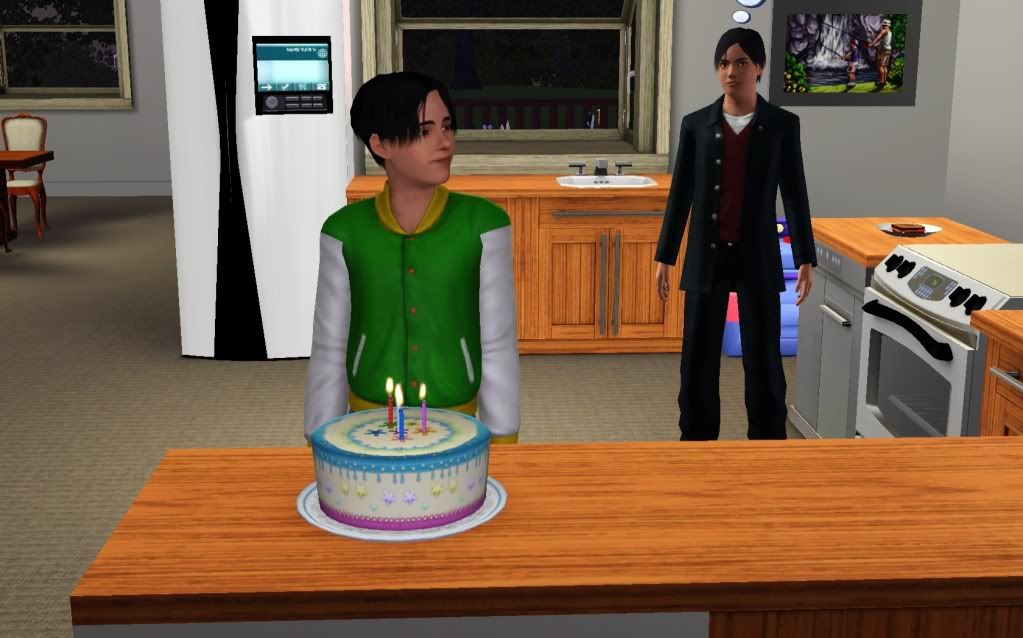 So Eddie is ready, the family gathered, he blew out the candles, they all cheered excessively,
Eddie sparkled
, spun, got his
last trait
and took over the reigns. *tilts head*
You're handsome
.
Eddie: Naturally, I look like Dad.
Speaking of your father, where did he run off to?
Eddie: *chuckles* Lisa is here… where do
you think he went
?
*smirks* Naturally…