So far I've been having them wander around aimlessly. Sending them to work, meeting people and Ruby has been annoying people.
Ruby: Heeeeeey!
Tell me I'm wrong. I dare you.
Ruby: ...
So far the one person she has not alienated, besides Don Lothario who is her best friend, is Sherman.
They tend to autonomously flirt often. Not to the point of woohoo, I have to prompt that…
Ruby: Which you don't!
Because you don't need any more spawn.
Ruby: Children! Besides, who cares about spawn, uh kids… I need some quality time with my man.
I finally had enough points to get that collectors locator thingie. I love it! Ruby went all over Riverview snatching up the rocks, gems, ore, and staying busy so I could torture Sherman without her realizing it. *grins*
Ruby: What was that?
I don't know, but it looks menacing… wanna check it out?
Ruby: No! Not that, that thing you said about my husband.
Oooh… that…
Lisa told me where the catacombs are. So I sent him in.
Ruby: Roo, you know he's afraid of the dark! Why would you do this to him?
Because your sons would be busted for being out past curfew if I sent one of them.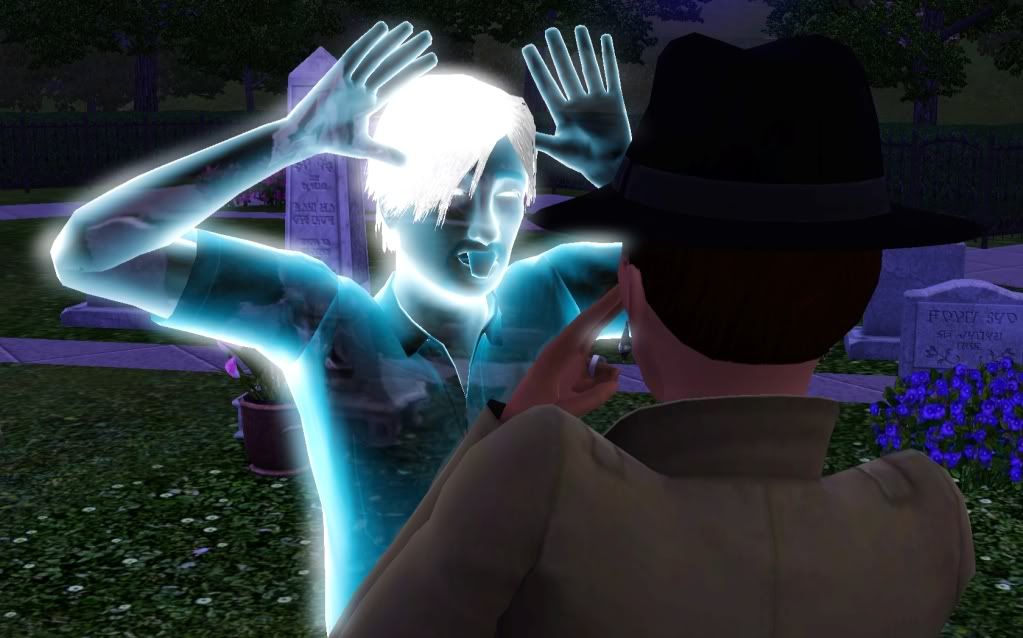 *blinks*
Ruby: We're making silly faces.
You are so odd.
Ruby: I came to the cemetery looking for Sherman. Where is my husband?
Uh…
Ruby: *gasps* Sherman!
Ya, he's horrified right now… take him home will ya?
Great news! I got my first money tree! Woot! So she planted it, it grew, she harvested it and now I have money bags in her inventory… now what?
Back to Sherman and his family. I thought… yanno, his sister is an elder. They've built up their relationship a bit more. So I sent him over to see her. Then I had another thought. Since he got bupkiss when his mom died, what happens to this house and all the stuff and the money and … omg he gets NOTHING… so I thought… hmm… lets see if I can get him to move in with her. Then when she dies, he can grab all this stuff, sell it and move back home.
Ruby: What?!
Only when he did the 'move in' she ran off and moved in with them! Sold the house, refused to pack up the furniture, only let me sell it and she brought only §20k even though the house was worth over §150k. What happened to the other §130k?!
Ruby: So that's why his sister moved in?
Mhm. Also, her inventory was empty. *scoffs*
Ruby: She brought in a lot of needed money.
That is true too.
Ruby: Why do you have a random picture of us in our pajamas?
Because… *bites her lip grinning*
Ruby: *rolls her eyes*
Anyhow, I gave Ruby a great host thingie and she threw a party. My first for the game. We made it a pool party… yes, I built them a pool. heh.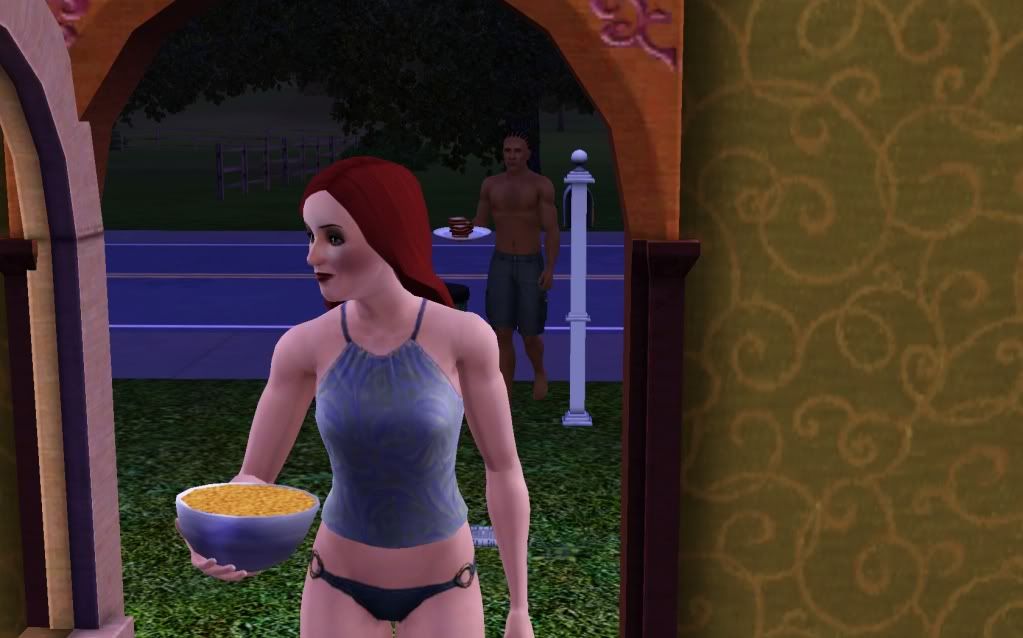 Ruby had the opportunity to throw Don a promotion party. I figured now that she had money for a bang up stereo, a bar, a pool and fun stuff… why the heck not throw one?
This is Ruby Broke. She crashed the party. Instantly Ruby wants to interview her. Meh, maybe later, right now we're having a party.
Oh darn it, behind her is Sherman's partner George Dean… Dean George? I don't remember.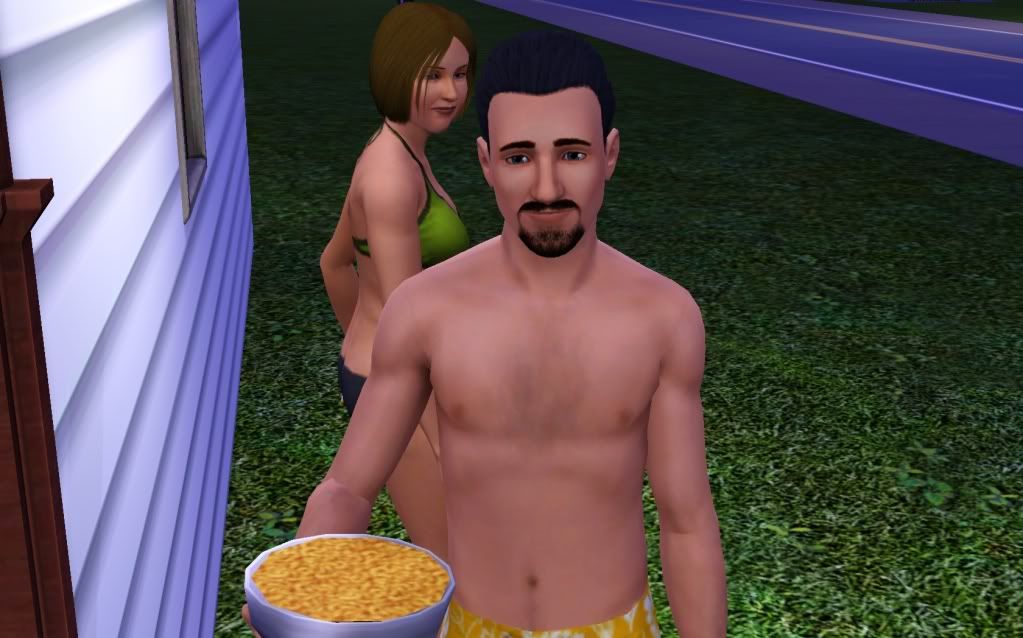 Speaking of Don, here is the guest of honor… who brought his latest fling behind him.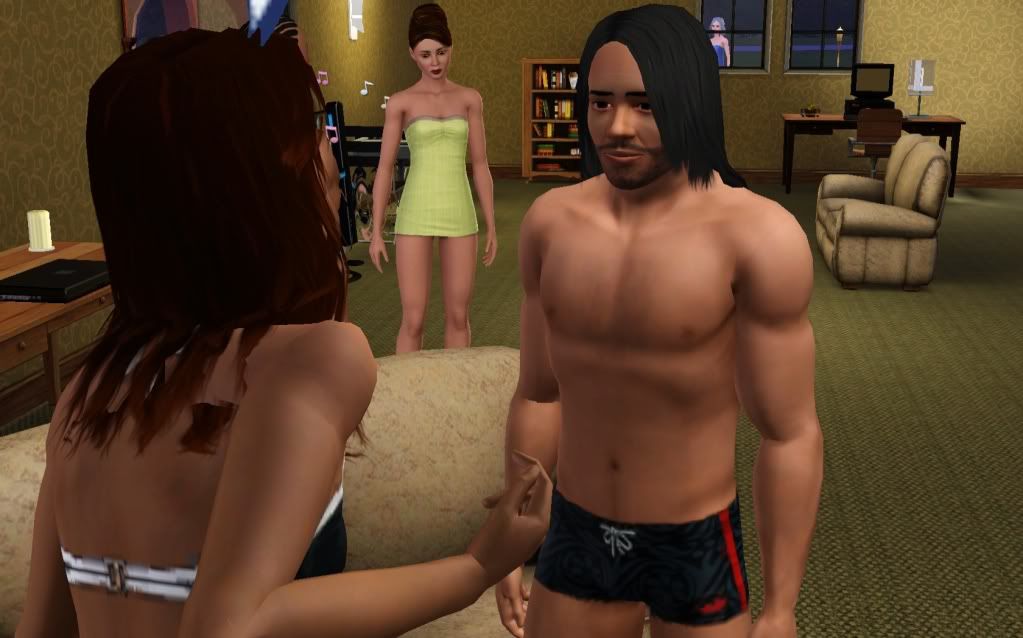 This guy… ya I don't remember, but she wants to be friends with him and interview him. Wait you did interview him… what 'do' you want with him?
Ruby: Me? He's a friend nothing more!
Mmhmm….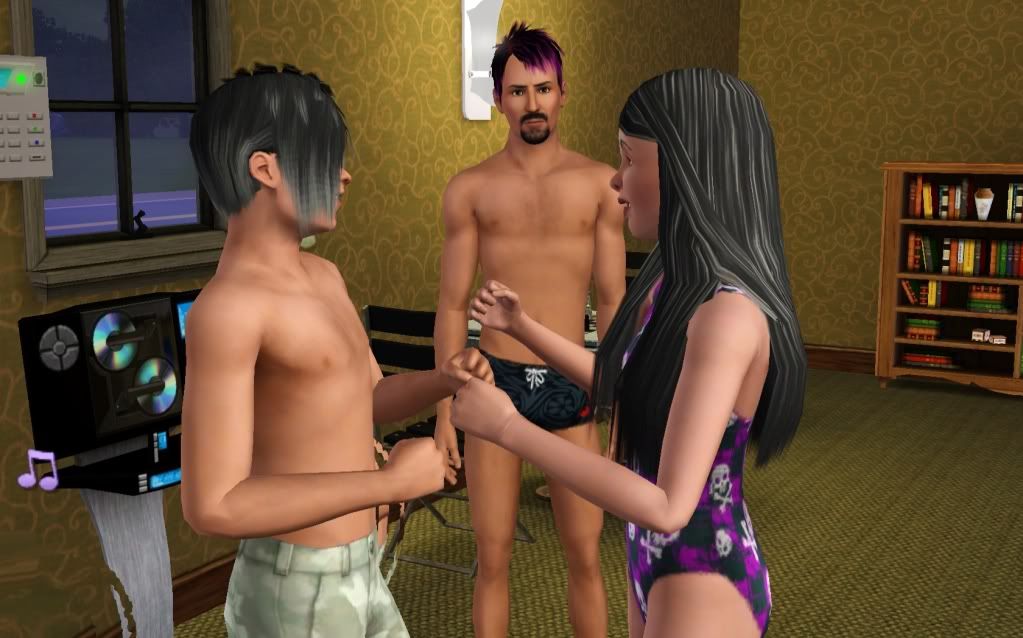 We made sure to invite Steve's future love interest. Meet Precious Jones. Glaring behind them is Jayden Wilson, the first sim I ever created. *waves to Jayden*
Ruby: Wait, that's Precious?
Yes.
Ruby: She's rich. Okay, she can date my son.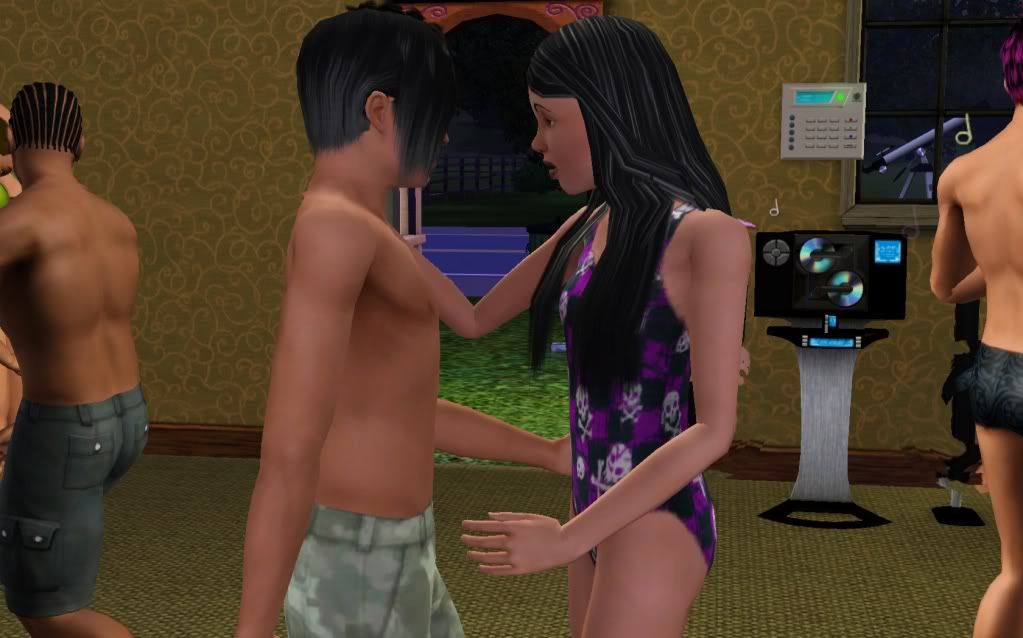 Steve got a nice hug from her, did a few flirts. It was getting late, I knew the curfew would take over soon.
So he gave her a kiss goodbye. His first kiss… all together now: "Awwww"
As for Sherman's sister, who's name I can't remember… she was swimming in the pool when she got her Grim visit.
The look on her face is priceless *snickers*
Ruby: That's so uncool. You don't make fun of the dead! Bad karma.
*scoffs*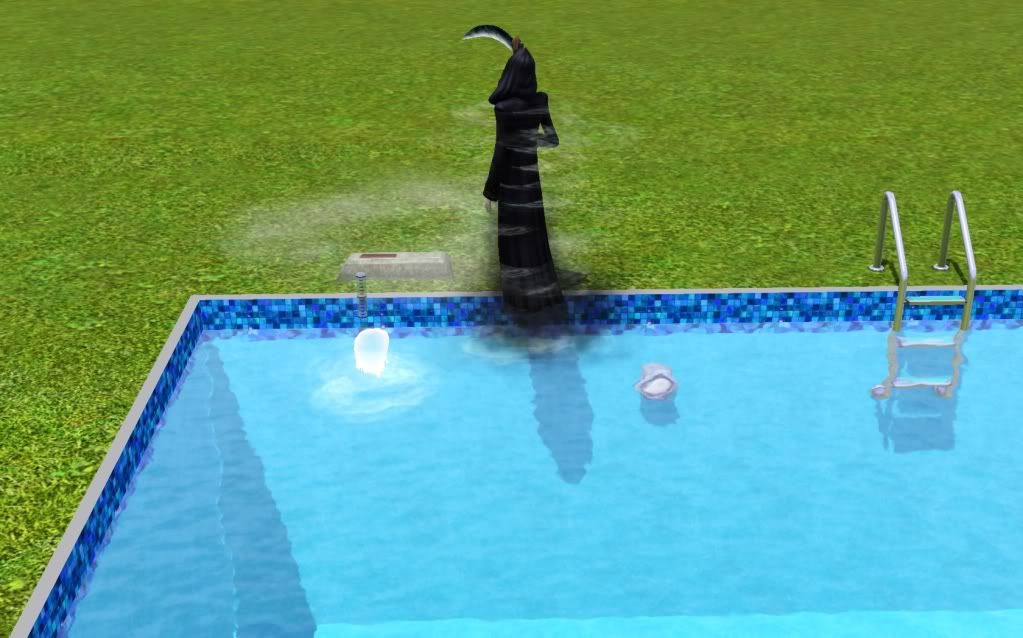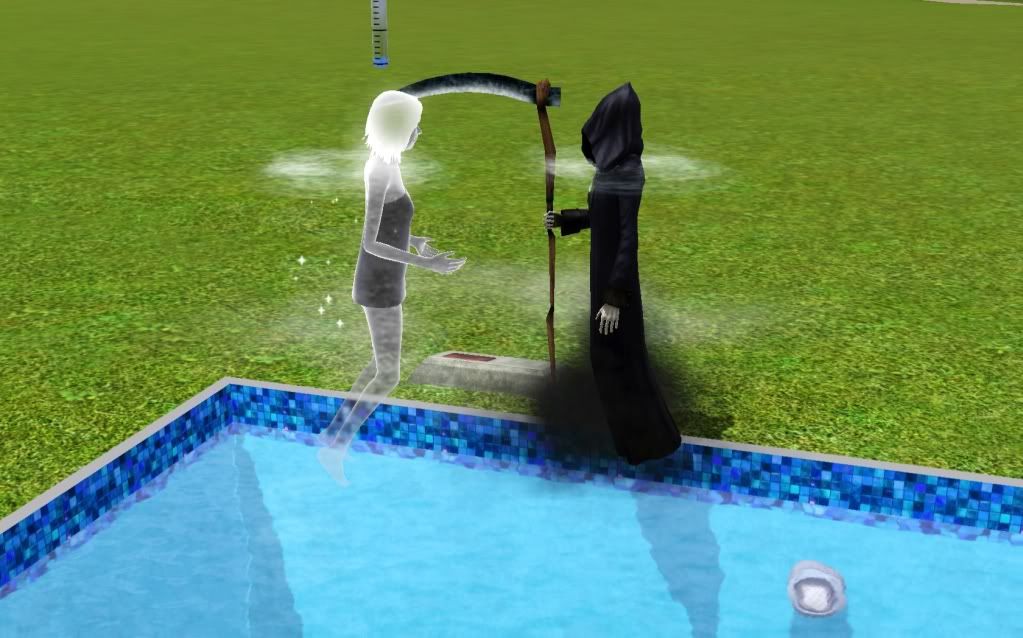 She got tired of waiting and 'fell' back in the pool. The whole time, her bar stayed over her head for swimming. It didn't go up, it was just there. Unfortunately I missed the shot of Grim falling in the water. That was funny. *grumbles about the delay of the pause*
To answer my own question about an inheritance… apparently it doesn't exist in Sims3.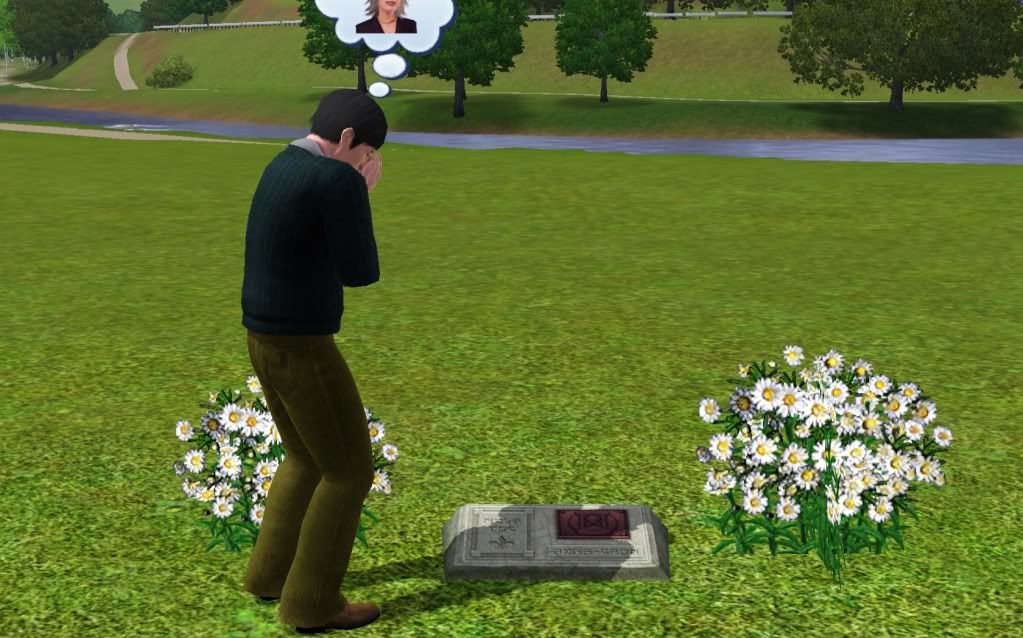 They all mourned her death. Sherman the most. He actually went to her grave and mourned all properly like. Others just got a bad moodlet and randomly burst in to tears.
Poor Sherman is even more frightened of death now. He's days away from transitioning to elder.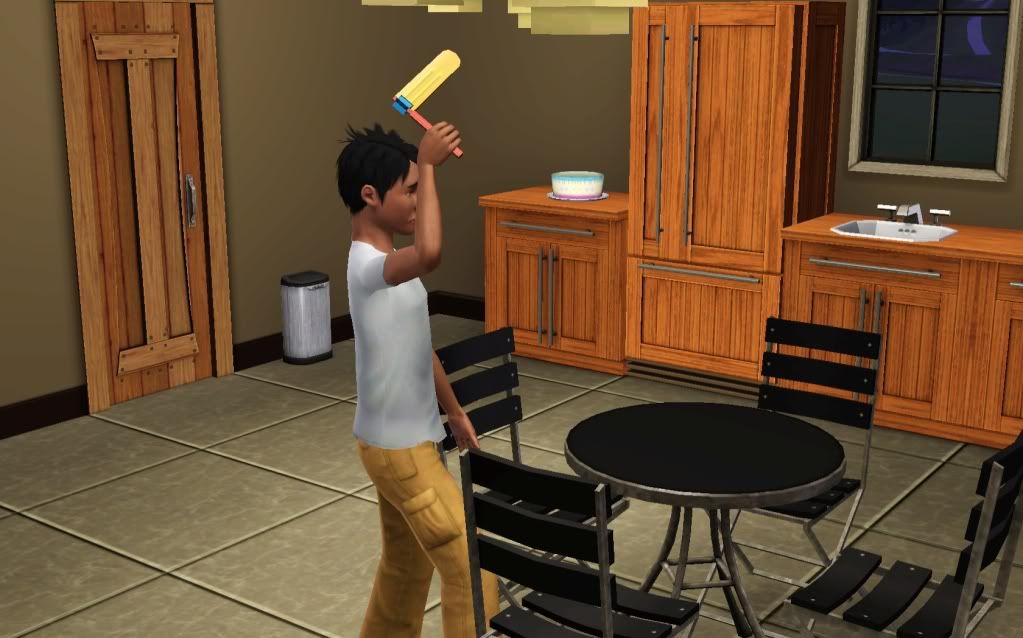 Speaking of transitions. I bought a cake.
Ruby: Yes and you let him finish his homework which stalled him and he never made it to the cake.
That is not my fault.
Ruby: *shakes her head* He's transitioning to an adult, did he really need to do his homework?!
*blinks*
So here's our heir, looking none too happy with life. He's grieving the loss of his Aunt. She died on his transition day…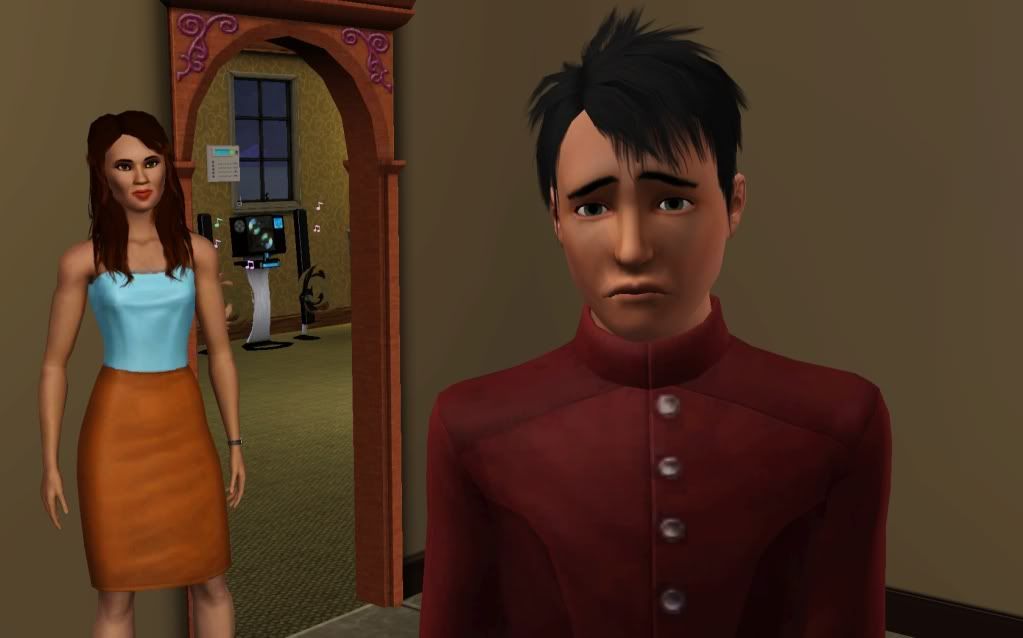 Don't worry Christian. We'll get that lost trait back and find you a wife.
Christian: What? Oh great! Now I'm hearing voices… man this sucks.