Shawanda spun in to her 'everyday' clothing with the intent of exiting the house in order to go to the hospital to give birth. I was having none of that. I allowed Ruby to go the first time to see what the fuss was all about. I allowed her to go the second time because I wanted to see what would happen to Christian. I allowed Precious to go the first time because Christian was at work. I allowed it the second time because she insisted! *giggles* and after fighting her three times, I figured if she was that danged determined she should have that child where she wanted to.
Franklin: *chuckles* I didn't realize Mom had such spunk.
*grins* You'd be surprised. Precious was a lot of fun… but we're here to talk about Shawanda. She spun the want to go to the hospital. I X'd it out. Franklin went downstairs before I X'd it out for him as well. Shawanda stayed put and
went sparkly, spun
and had
a baby in her arms
. *yawns* Boring.
Franklin: I was going outside to fish for a while but was suddenly hungry and had a late night snack of Goopy Carlsboro leftovers. I love that stuff. Pops makes the best around.
I'm well aware of your love for this odd food, the applauding every time you eat it is a dead give away.
Franklin: While I am rather fond of my name, you could have done a better job with my son's.
What? Why? He is named after my favorite comedian.
Franklin: *blinks* Eddie? No. No! If he starts cross-dressing-
Eddie is an executive transvestite (Eddie Izzard). You'll still have an heir/heiress, calm down. And for those who are curious, Eddie's early traits are friendly and…
Franklin: And?
*sighs* Evil…
Remember the 'Brave' Shawanda? It would appear that Precious who was always so sweet in 'life' is a real stinker now that she's been returned. *ponders* I should check her traits tonight. I wonder if they've change. She really enjoys scaring the tar out of Shawanda who refuses to die of fright.
Franklin: Can we die of fright?
I don't know. I am hoping
your wife will help us out
with that question. I was hoping Sherman would die of fright, but he was such a coward he would faint before any ghost could try to scare him.
Shawanda was sitting at 0 days to transition for a full day after having given birth. It was time. So we bought
glitchy woman a cake
.
Franklin: *chuckles* She took it in stride at least.
You don't seem too concerned about
being married to an old woman
.
Franklin: Should I be?
Meh, I don't suppose so. No sooner did Shawanda transition
Akara followed suit
with a transition of her own.
Franklin: You do realize
Akara's transition
is the same day as Pop, right?
Yes.
No one's cooking is ever high enough for ambrosia. I have dreaded this moment. I thought of scenarios to keep him from aging and truth is… I let it happen anyhow. I get too attached to my heirs and heiresses. I have to learn to let them go. *swallows hard* So Christian
sparkled and spun
… and then
he got old
.
While Precious ran
around scaring the family
, I prompted
Akara to call her man
over. We
bought him a cake
and nudged him to
blow out the candles
. Akara helped him celebrate and he transitioned to YA with her.
Franklin: Strange guy, gray eyebrows
and now overalls
? What does she see in him?
No idea, but they were best friends in high school and I wanted to ensure she was married before she moved out. Unlike your Uncle Steve who is STILL single. I'm hoping she has a bunch of little spawn running around very soon.
Franklin: *chuckles* All wearing overalls most likely.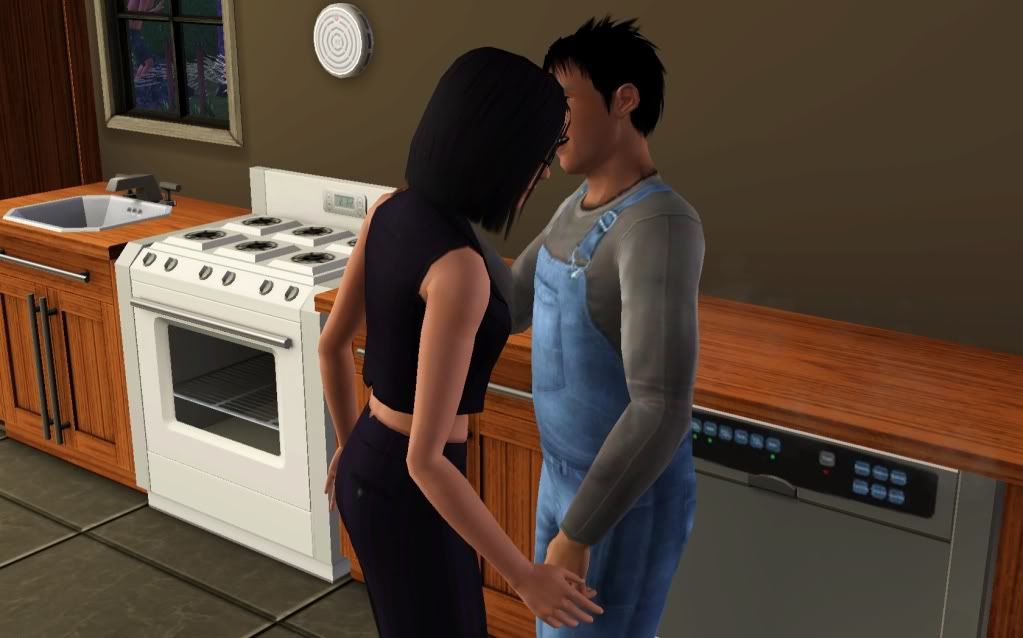 Akara took the initiative and
woo'd him relentlessly
. Brett had no idea what broad sided him. They were already BF/GF, so Akara took it to
the next step
, fumbling
the box naturally
(clumsy) and
proposed engagement
. He accepted.
She's happy
. So we stepped it
up once more
.
Franklin:
They're married
? That was fast.
Yours was faster… but that's beside the point. Instead of having him move in to their small home and then kicking them out. I let them
move in with his Mom
and some little boy with their last name. Now, is that her offspring or his?! I will have to check the family tree and get back to you on that one.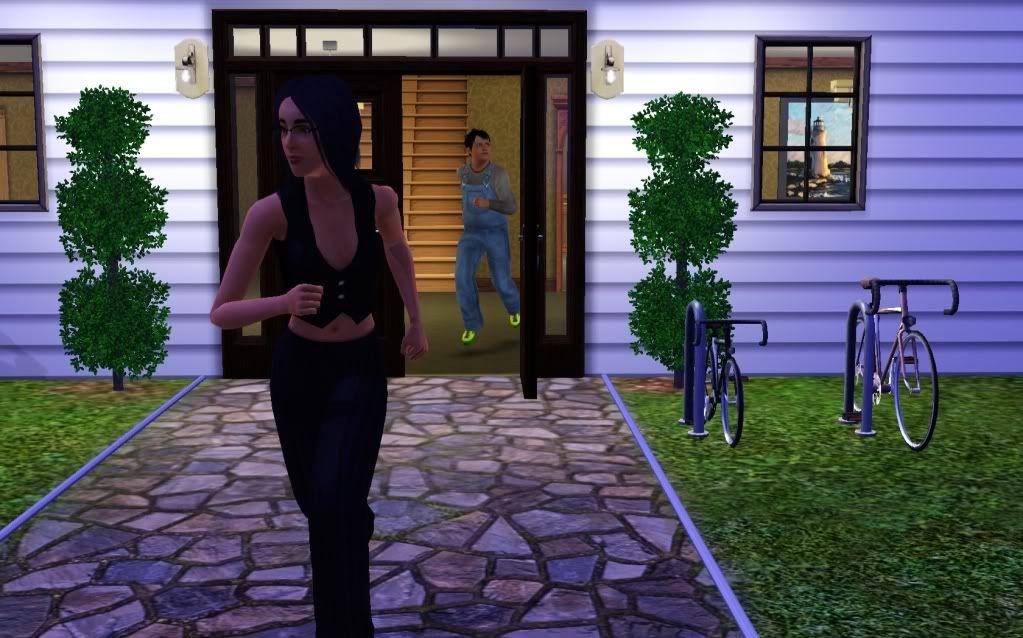 Franklin: You should have had him move in and then kicked them out. You cost this household §20k.
Yes, I realize that now. Lessons learned and that is what this legacy is all about for me.
Franklin: Test subjects, guinea pigs… I see. Is that why Mom is pregnant again?
Exactly!
Franklin: This is definitely going to be interesting.
*bounces* I cant wait!