So last time we left the house in the middle of Gen 3 Heir's birthday. *braces herself* I'm not sure I'm ready for this…
Franklin: What's the hold up? It's my turn to reign, let's do this.
Well then, it seems your father has prepared you for your turn as heir. Congratulations on your transition, Franklin.
Franklin: Enough small talk, I need a wife, I need an heir, I need a good job to build on this meager house and on-hand income.
Your LTW doesn't require you to have a job, are you sure-
Franklin: I said I need a job. Are you going to second guess everything I say?
*blinks* I see… *poke*
Franklin: Hey! *rubs side*
*smirks* I see your father didn't warn you about every thing…
No sooner did BillyBadButt transition to adult Jenn decided she's still looking for Mr. Right… o.O
Franklin: Ya that was
weird even for me
. Totally inappropriate. I mean she was my step-mom for a while. She booped my dad. Now she's coming on to me? That's just… twisted.
Meh, her current guy is getting up there in days. Maybe she's just looking for a little fun. She is rich after all. *smirks* Anyhow, surprisingly Franklin handled it better than I had imagined, instead of being mean to her like he is to every other sim in Riverview, he told her
some juicy gossip
and they
laughed it off
. *shrugs* Who knew he had it in him?
So we took a closer look at Sandra and Shawanda, the two women I picked out for Franklin.
Franklin: Nice choices by the way.
Sandra is a sure thing.
She thinks he's hawt
. She got all googly over the guy and fell for him big time fast. Trouble is I noticed
him checking out Shawanda
even when
he was flirting
with Sandra.
Franklin: So you did notice. I thought I would have to spell it out for you.
Listen, Bub. *pokes Franklin again* She was my first choice, but you were a kid when she was a young adult so I dunno how ancient she is or if she can give you that heir/heiress you require.
Franklin: *rubs his side* Ya well, Sandra is hot, has a great body and is already in the stand-by mode.
Are you sure you don't have commitment issues? *glances at his traits*
Franklin: Nope, no issues, just
keeping my options open
.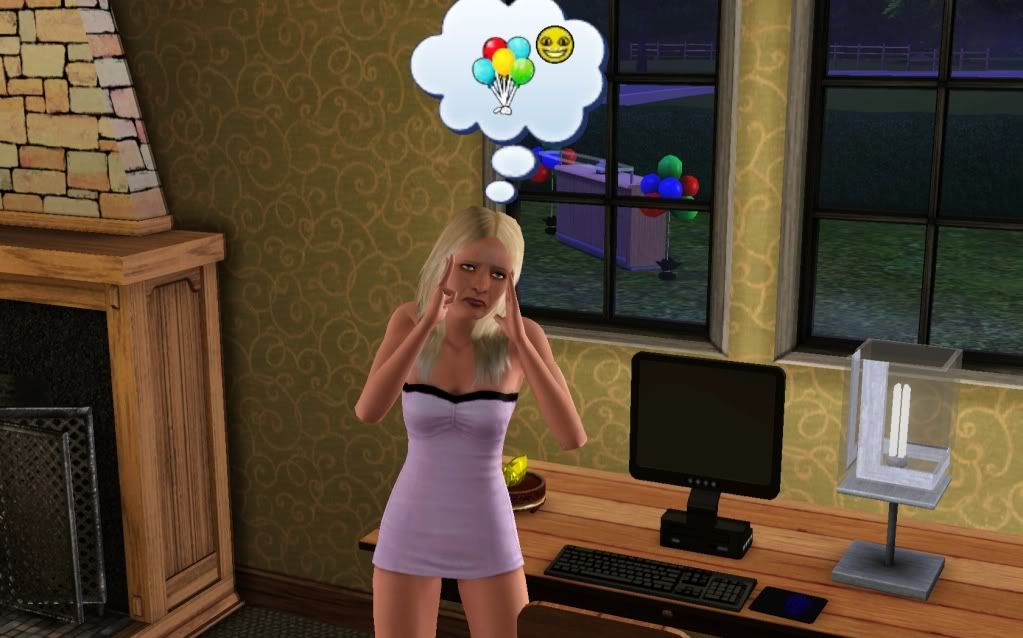 Okay hussy your party is wearing down, your ex-step-mom is stressing out for some reason and
your half-sister
is ready to pass out. Hmmm, good thing I left some toys out to keep her occupied, eh? *blinks* Franklin? *looks around* Franklin? Well now, apparently there is
a party going on
up here as well. Lets go back downstairs.
Akara is having fun
. She threw the party so she got the 'threw a great party' moodlet or at least will once the last guest leaves… and from the look of things, she wont be
leaving until the morning
at the earliest.
*sighs* He looks so… so… sad.
Franklin: As if you didn't have a hand in that?
He's
wicked tired and should be in bed
… but he's no longer the heir so I can't tell him to go to bed. *tries to mentally tell him to go to bed*
Franklin: *snorts*
Fine, since you're up… You need to make the run around town to get your share of the businesses your family owns.
Franklin: My family owns businesses in town?
You are a partner to four different places:
bookstore
, grocery store, spa and the cinema. Ya know, every sim I've ever sent downtown took the time to change into their every day clothes before going…
Franklin: I'm
not just any sim
…
*raises an eyebrow* No, you
are definitely not
…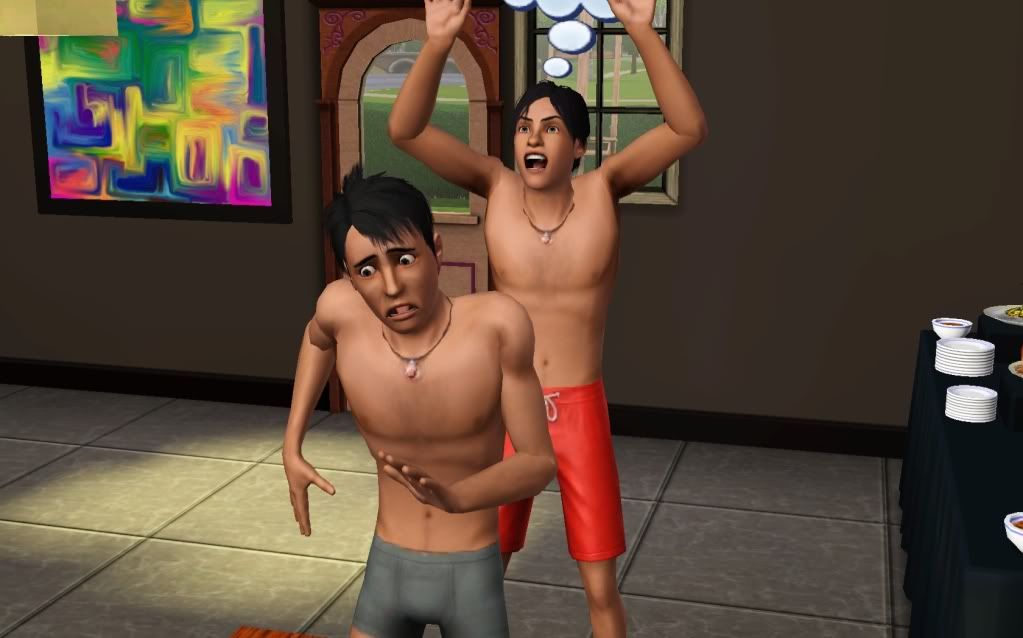 And yes, I have learned that they do not grow out of the scaring sim stage. *snickers* The look on Christian's face is priceless… just priceless! I had to pause it here. I laughed so hard I had to call my daughter over to look at it and she laughed with me. I had tears in my eyes I laughed so hard.
Franklin: Pop
didn't seem to think it was funny
.
Cha, if you had done it to me, I wouldn't have thought it funny either. By the way… your woman,
Sandra, is a slob
. I think we need to check on Shawanda.
Franklin: This weekend soon enough?
Hmmm… it's doable.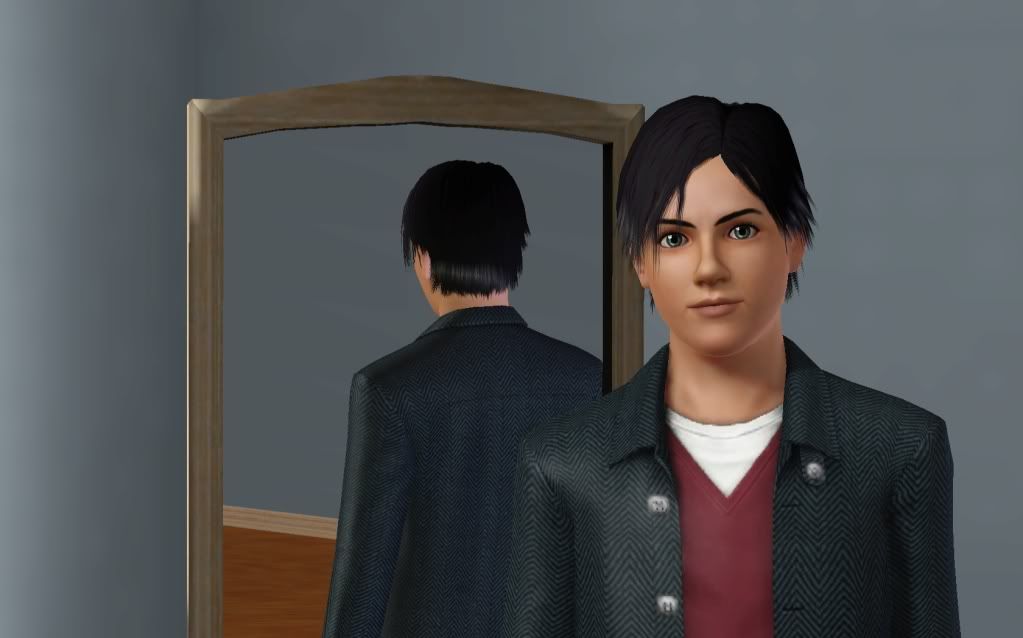 Before I forget, we did a makeover for Franklin.
Franklin: Not a makeover, just a change of wardrobe.
Right, because cute kills… so we didn't have to worry about his looks.
Franklin: *
raises eyebrow
*
Christian had oodles of those wish point things, so I got one of those body transforming tube thingies… naturally I tested it out on Akara. I suppose if she was a tubby girl I would notice a difference. Cuz
I don't see
any change.
Franklin: You should have made her fat. Then you'd notice a difference.
*ponders* Good point, I'll try it on the next subject.
Carmen is a teenager now, so I peeked in the window. It broke my heart to see this! Then I thought… I bet if I had someone visit there it would be miraculously filled with furniture…
Franklin: Remind me again why I went?
Your sister had to go to work, your father is still not on speaking terms with his ex-wife and your job doesn't start for another day or something.
And I was right! Yay me.
Franklin: Now that your curiosity is fulfilled, I have things to do…
*waves a dismissive hand* I had to
check your sister's traits
-
Franklin: Half-sister and you could have simply checked them in my friend's panel at any time.
*poke* What fun is that? Besides I want to… ya, okay we're done here.
Franklin: *rubs his side* Very well then, I have an easy to fulfill wish…
*looks* Well not really, I think it's a glitch. That says you wish to undermine a charity for §2,500. You can only donate §100, §250 or §1,000. Ya I don't get it.
Akara has been a damn good sport. Uh, not that she has much of a choice. Nothing ever happened other than she had detention daily so I gave up, finally…
Franklin: So that's why the loser kept copying my homework?
Naturally.
Franklin: Makes sense.
And she isn't a loser, she had no choice in the matter. I made her do it, just like I made you help her with her homework. You guys just 'think' it's your idea.
Franklin: *narrows eyes*
Akara also threw a wish to quit her job. She's been tortured enough for now, so I let her quit. She
was quite thrilled
.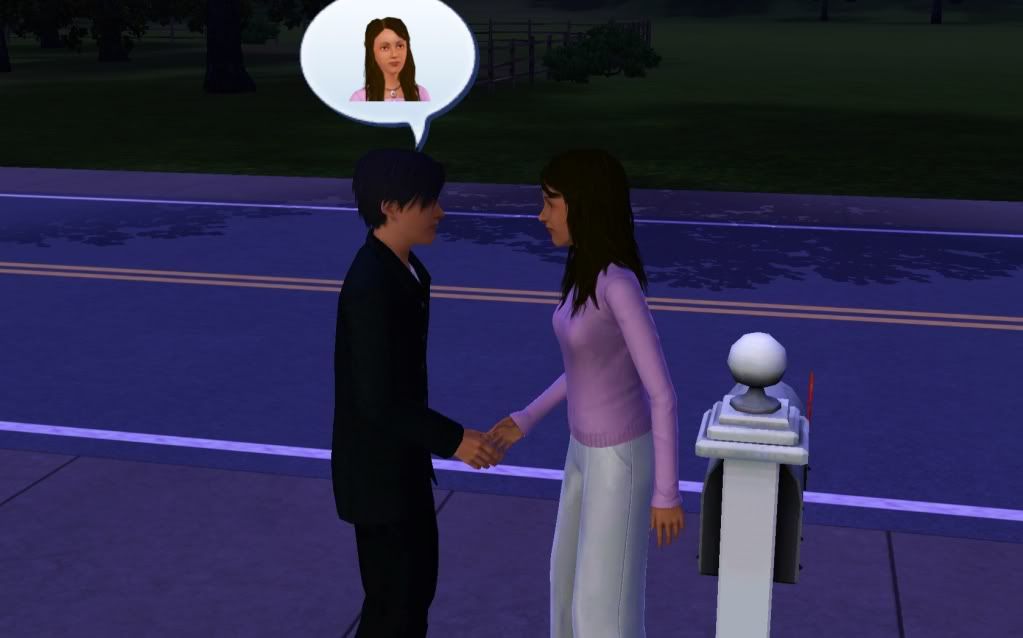 We invited Sandra over. I'm still not 100% hooked on Shawanda… that age thing was bugging me. We invited her over, she showed up, he invited her in, she jumped in a car and went home. o.O
Franklin: Women… I'll never understand them.
Sims… I'll never understand them…
Franklin: *chuckles*
We were going to try to invite her to stay the night, but she apparently wasn't having any of that. I've been toying with the idea of having each remaining generation have at least one illegitimate child wandering around Riverview.
Franklin: Nice.
I thought so.
So the next day we invite Shawanda over. She
was most receptive
to
Franklin's advances
and agreed quickly to
spend the night
… there is just one problem… well a few actually.
1. She has the can't get preggers, given the same reason that Precious had.
2. She has
only one trait
.
3. I couldn't
get her to move in
.
4. I couldn't
even get them to be BF/GF
That's when it hit me… yes, I'm sure you already figured it out. He still has the BF/GF thing with that blond Miss Thang who is still in high school. So quick as a wink, I have him invite her over. He does a quick
smooch with Shawanda
making sure Miss Thang see's them.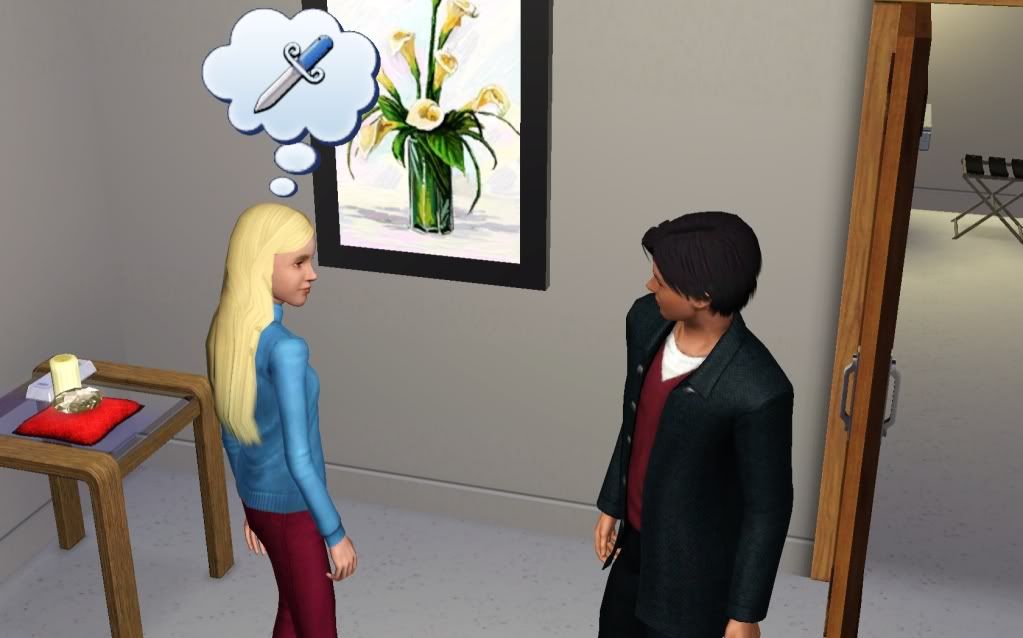 Miss Thang went upstairs to sleep in his bed, but Franklin was hot on her trail. Insulted her cuz he wanted to be mean.
Then broke
it off with her. She
was stunned
. o.O Really? Shocked? Why?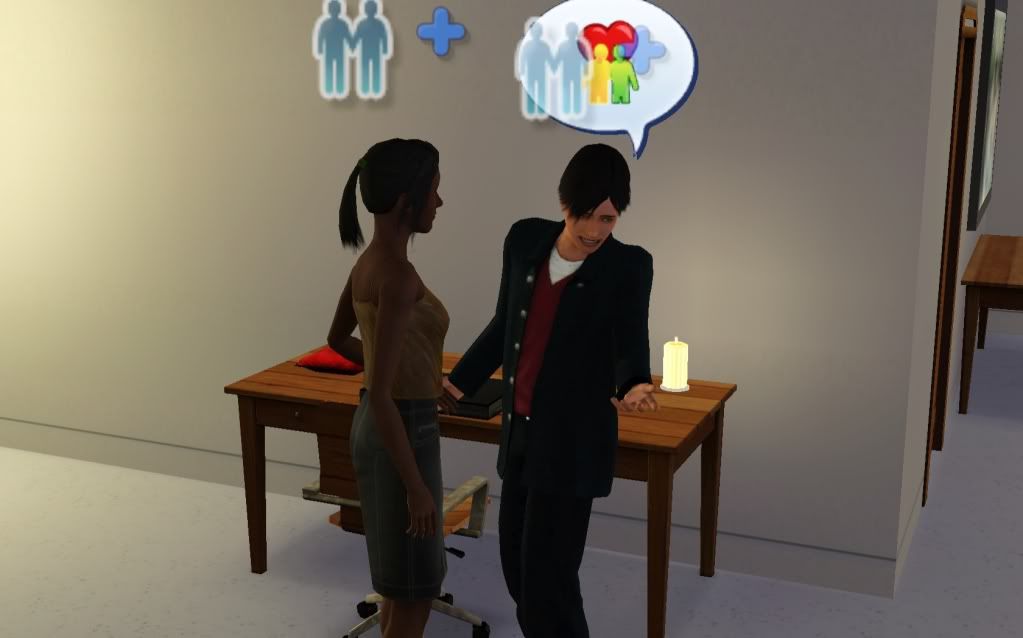 We send her packing, call Shawanda upstairs and waste no more time with niceties. First
BF/GF
, she accepts;
then engagement
, she accepts; then
marriage
, she accepts. Welcome to the family
Shawanda Babii
… who is older than his father. *headdesk* She has zero days until she transitions to elder. ZERO!
Franklin: We have life fruit. Just age her down a few days and get me an offspring. Then once she has my child we can ditch her and bring Sandra in. Simple. I don't know why you're making such a fuss over this.
*blinks* So that's the plan. She ate
three life fruit
and gained only 2 days. They hopped in to bed and we
heard chimes
. Generation 4
is on its way
!